proxwitch applications
The Proxwitch design enables a variety of control applications to be met. The Proxwitch contains electronic circuitry that is sensitive to material close to its front face. Its operation is solid-state and has no moving parts, except for the output relay.
When the circuit is triggered by material near to it, the internal relay operates and is used for control purposes.
Control
The Proxwitch range of capacitive proximity detectors is designed to control material flow by switching the drive motors of conveyors, augers, etc when it senses the material.
Wide Range of Materials
A wide range of materials (such as grain, feedstuff, plastic pellets, liquids, etc) coming close to a Proxwitch will cause it to operate. Being capacitive devices, they can detect most materials, both metallic and non-metallic.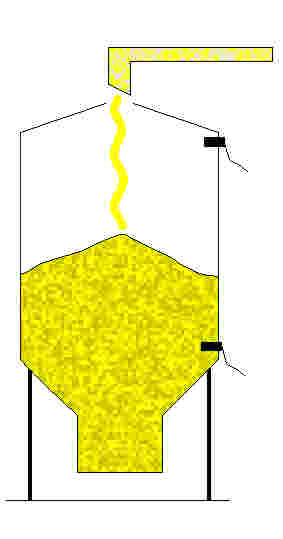 Uses
A basic use for example, would be to control a conveyor feeding pellets into a hopper.
A suitably positioned Proxwitch will sense when the hopper is full, and switch off the feed conveyor when the material reaches its front face.
A Proxwitch 2 will do this and switch the conveyor on again as soon as the material drops below the Proxwitch.
With a Proxwitch 3 fitted, a time delay which the user can readily set by screwdriver control, comes into action when the material leaves the Proxwitch. This prevents frequent motor starts which can occur in some applications and makes the Proxwitch 3 a complete, sophisticated control unit in its own right.
By using two Proxwitches of either type, the conveyor could be switched on when the hopper is empty, and switched off when it is full.
An ideal application for the Proxwitch 3 would be to control the flow of grain in and out of an auger pit. When the hopper is full, the Proxwitch 3 switches the feed conveyor off. Once the time delay has allowed the pit level to fall as required, the Proxwitch 3 will switch back, restart the feed conveyor and allow the pit to fill once again.